Physician Assistants are licensed health care professionals trained in the same format as physicians. The training is roughly two-thirds the length of medical school with over 100 weeks of general primary care education. The average physician assistant has a bachelor's degree and four and a half years of health care experience prior to entering a PA program.
 For more information about "what is a PA?", please click here.
---
Educational Requirements for Oncology Physician Assistants
PAs usually enter oncology practice by one of three routes:
Graduation from an ARC-PA accredited PA Program
Completion of a oncology residency for PAs (optional after attending PA school)
On the job training (after graduating from an ARC-PA accredited Program)
---
Licensing
PAs are licensed by each state to practice and must take a national certification exam given by the National Commission for the Certification of PAs (NCCPA). Each hospital board then credentials the PA for specific practice privileges. So, oncology PAs are able to work anywhere the supervising surgeon has practice privileges.
Visit the NCCPA for more information.
---
ASCO University

ADVANCED PRACTITIONER CERTIFICATE PROGRAMS NOW AVAILABLE!
The American Society of Clinical Oncology (ASCO) has announced a new certificate program designed for advanced practitioners entering oncology care settings. This series of courses was developed in partnership with the Association of Physician Assistants in Oncology (APAO), Advanced Practitioner Society for Hematology and Oncology (APSHO), Hematology/Oncology Pharmacy Association (HOPA), and Meniscus Educational Institute (MEI) and is available on ASCO University® here:   Advanced Practitioner Certificate Programs for Oncology
Special Notice for Physician Assistants:
As part of the special partnership between ASCO, the American Academy of Physician Assistants, and the Association of Physician Assistants in Oncology, physician assistants are eligible for special pricing on ASCO-SEP® products. For more information, contact ASCO Customer Service at 888-273-3508 or email [email protected]. Verification of Physician Assistant status is required. Discount cannot be combined with any other offers.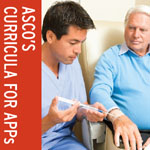 ---
Post Master's Foundation in Hematology
In collaboration with Oncology Nursing Society (ONS) and American Society of Hematology (ASH), APAO has created course content for the Post Master's Foundation in Hematology Online Course. APAO members receive a discount on course fees. Click Here to access course information.
---