Join APAO at the APAO 2022 Regional Meeting!
March 17-19 | Nashville, TN
Omni Nashville Hotel
GENERAL INFORMATION
Gain the knowledge and skills you need from top-level speakers and industry experts.
The work of the APAO Symposium Planning Committee ensures that you are learning from healthcare's best. Real-life case studies and examples help you apply what you've learned to your situation. Take away helpful tips and resources! Plus, each session you attend counts toward AAPA Category 1 CMEs!
Consult with vendors and suppliers.
REGISTRATION FEES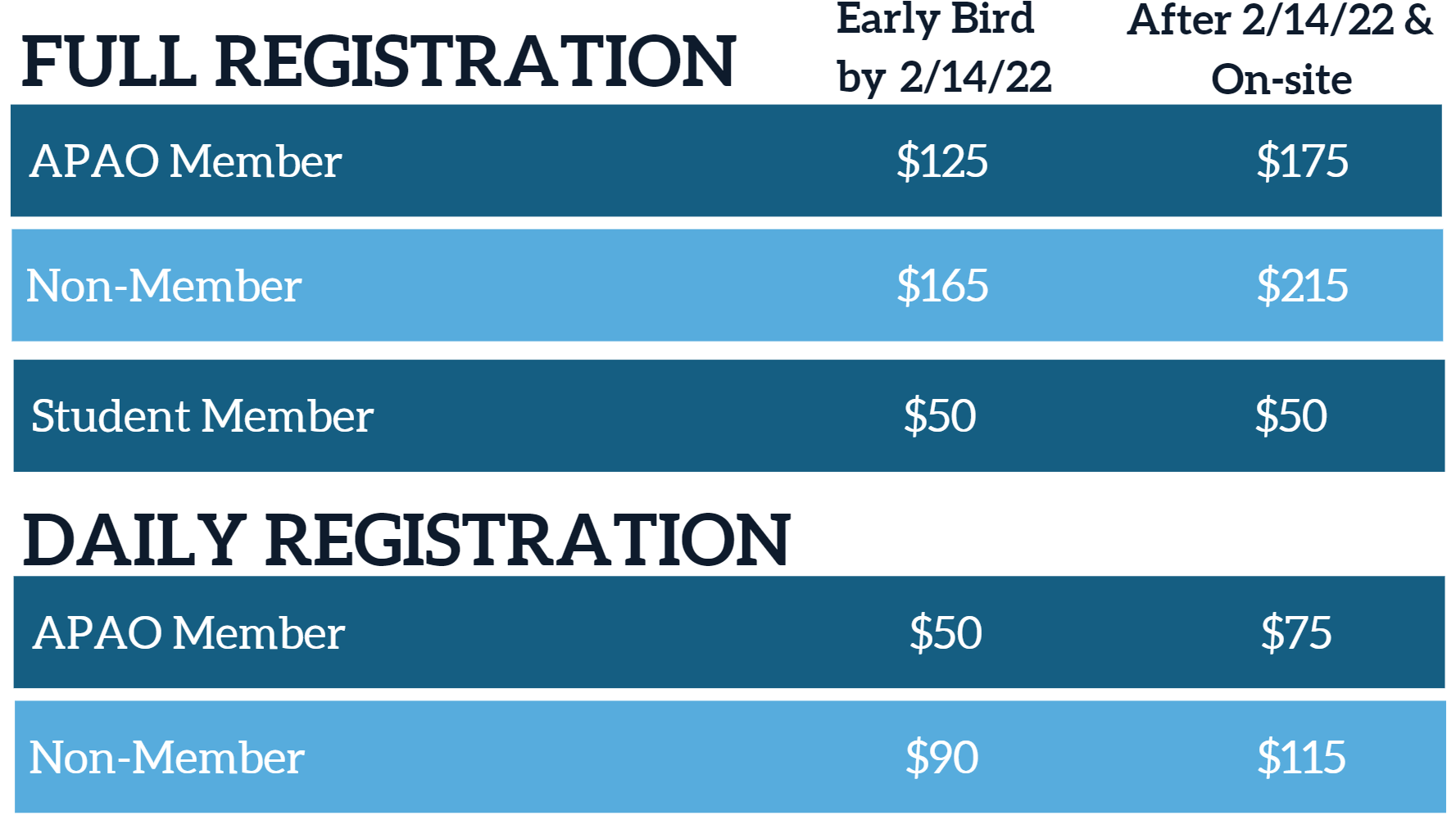 Pre-Registration cut-off date is March 4, 2022.
Pre-Registration will ensure that all of your meeting registration materials will be available for pick-up upon your arrival to the meeting at the Registration desk.
HOTEL INFORMATION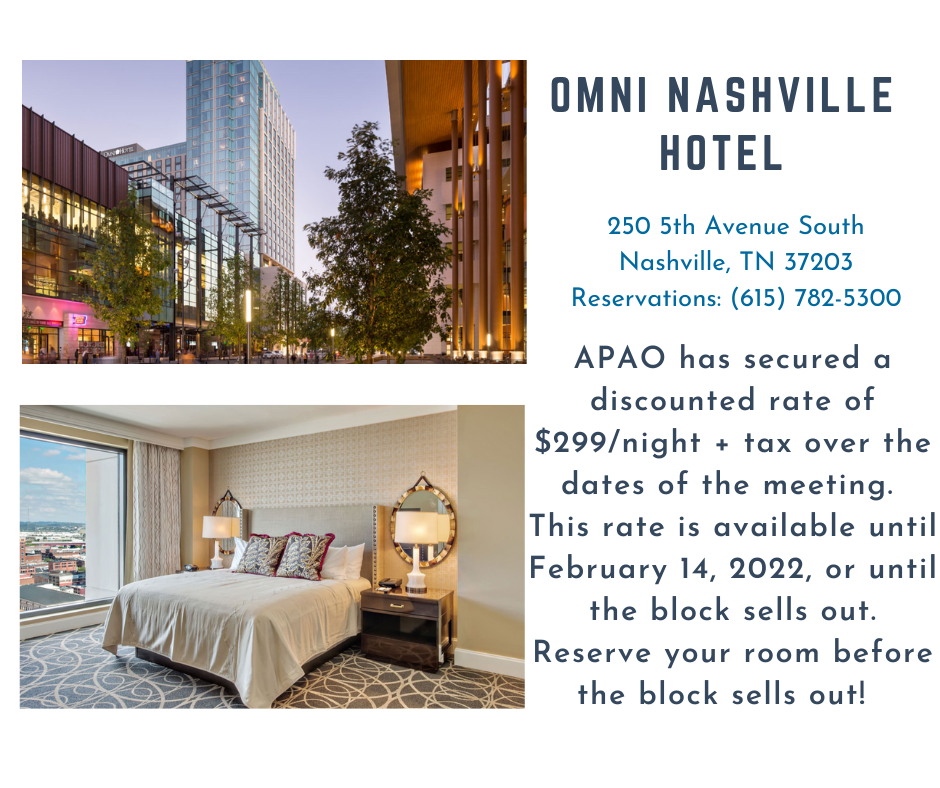 *ALERT* APAO does not use a third party housing or travel service company.
We encourage you to book your hotel accommodations by contacting them directly or using the above reservation link. If you are contacted by anyone in regards to a hotel reservation, please note they are not endorsed by APAO Despite their claims, they do not have access to our negotiated discounted rates. If you make a reservation with an outside company, APAO cannot guarantee your reservation is valid.
CREDITS
This program is not yet approved for CME credit. Conference organizers plan to apply for 24.25 AAPA Category 1 CME credits from the AAPA Review Panel. The total number of approved credits is yet to be determined.
FREQUENTLY ASKED QUESTIONS
---
ATTENDEES
What should I wear?
During the day, anything from business to casual dress is appropriate. Evening attire is at your discretion.
Where is the APAO 2022 Regional Meeting located?
The APAO 2022 Regional Meeting will be held at the Omni Nashville Hotel. Omni Nashville is located in downtown Nashville on Fifth Avenue between Demonbreun and Korean Veterans Boulevard and connected to the Country Music Hall of Fame and Museum. The physical address is 250 Fifth Avenue South, Nashville, Tennessee 37203.
How much is parking?
Overnight valet parking with unlimited in and out privileges is available for $48 plus tax, per day/per vehicle. Self-parking is available at the Music City Center garage adjacent to the hotel for $35+ tax per day. The garage entrance is on Sixth Avenue between Korean Veterans Boulevard and Demonbreun. Inform the Front Desk upon check-in for further instruction. Daily and Event parking - $25 - 0-4 hours | 4-10 hours $30. Daily valet is available for $20 from 0 to 4 hours, and for $24 from 4 to 10 hours.
Will there be Wi-Fi?
Complimentary basic wireless internet will be provided in both the guest rooms and meeting space.
How many credits can I earn at the Annual Symposium?
APAO has designed the program to meet the requirements for credit, with an application pending.
Besides sessions, what events are happening?
On Thursday evening APAO will be hosting a Networking Wine and Cheese Reception and another reception on Friday evening. There will also be designated times throughout the Meeting to network and mingle with exhibitors and sponsors!
How do I confirm my hotel reservation?
To confirm your reservation, please call the Reservations Department at the Omni Nashville Hotel.
*Please note, APAO Headquarters is unable to view your reservations.
When is the hotel cutoff date?
The cutoff date for hotel reservations is Monday, February 14, 2022.
For more information on the APAO discounted rate and how to book, please view the Hotel Information section.
---
EXHIBITORS
When will I be assigned my booth?
Booth locations will be provided when you check-in on site.
How are booth placements given?
Booth locations will be assigned at the sole discretion of show management. Placement will be made based on the date of the received contract, electrical needs, sponsorship level, and if possible, direct competitors.
When will I receive the preliminary registration list and the final registration list?
Preliminary registration lists are sent out approximately two weeks prior to the meeting and approximately two weeks post meeting.
NETWORKING OPPORTUNITIES 
APAO is offering over 11 hours strictly dedicated to networking time with fellow APAO attendees and exhibitors/sponsors!
Don't miss out on the following networking activities:

Non-CME Breakfasts 

Breaks With Exhibitors


Stretch Breaks

Non-CME Lunches

Networking Wine and Cheese Reception

Friday's Reception

Refreshment Breaks